"People do what they want to do. The rest is just excuses." - Maxine, Judging Amy

This is my 200th post. I started this blog May 31, 2007, and back then I had no idea I would ever make this much food. I thought I would be spending all my time designing and writing about life but somewhere along the way it got frappéd into the blog you see today (you should see the cakes I made... Fugalicious). This feels like a great milestone, made only slightly crappy by the fact that I haven't been performing too well in the kitchen lately (I think it's the rainclouds... They make me not want to photograph). So instead I'm going to talk to you about an important milestone in my life.

When I turned 24, I had begun living alone (recently being separated from my flatmates). Some people would probably go mad being incubated with all their 4-11PM thoughts by themselves, but I got to thinking about how I lived my life. I used to be completely obsessed with being respected, being noticed, and being loved (I like to think most young people are). And the GRADES. Man, getting a high grade was orgasmic, especially when they announce it in front of the entire class. Not only do you get respect, but when people turn to you like you're an authority, the feeling is just indescribable. Or maybe I just can't describe it accurately now because looking back it feels artificial and empty.

I don't know why I never realized back then that like all other things, popularity and recognition are ephemeral. You can't base your self-respect on them (castle on quicksand, that's what it is). I had to let people decide who they want to love without baiting them. I had to look inside myself to find a place that wasn't selfish. Changing your whole perspective on life isn't easy (or instant), but listening to the song above ("24" by Switchfoot) did help me to climb out of my rut, to bring the second man in me to life. It sounds maybe kind of corny, but the day I turned 24 was the day I shed the foolishness of youth and took my first clumsy steps to maturity.

Okay, so maybe it's not the best segue into raving about being recognized in a local magazine, but I do want to thank Wysgal of Rants and Raves for considering my blog "click-worthy" among Filipino food blogs. Me blushing.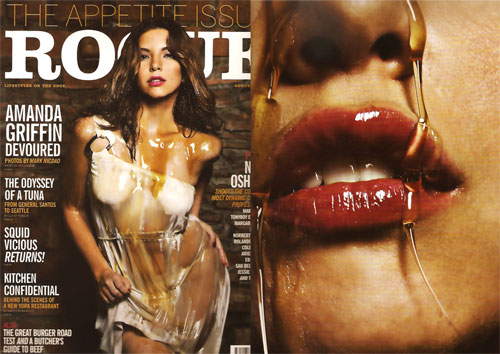 The cover is Amanda Griffin, clearly creating publicity for her reality series, Amanda Griffin: It's Mucoid. No, I kid. How could you not love Amanda Griffin?


Among those featured are some of my friends, Joey of 80 Breakfasts and Marvin of Burnt Lumpia. W00t! I know w00t is like a lazy catch-all for all celebration, but I'm just incredibly flattered.

So let's have cake!

Carrot Cake adapted from Olive Magazine
I LOVE carrot cake. I've tried so many different versions already, but the fruity and non-nutted kind with sweet cream cheese frosting is my favorite. I actually have a few recipes of carrot cake sitting in my library, such as one from Maida Heatter, one from Jamie Oliver (GASP! I didn't use his recipe!), and one from Dan Lepard. But I ended up using this one from Olive magazine in the UK. I dunno, it looked pretty in the picture! Sue me! What results is a very straightforward carrot cake, but delicious nonetheless. Someday I might use the other recipes (they have additions such as allspice and cocoa-- that's new), but for now, let's stick with this basic that comes together in 2 minutes once you have your ingredients ready. This is a 6-inch cake, perfect for an intimate party or a quick bite.

54g (6 tablespoons) canola or other neutral oil


2 large eggs, at room temperature


80g (1/3 cup + 1 tablespoon packed) brown sugar


1 teaspoon cinnamon


1/2 teaspoon salt


1/2 teaspoon baking powder


1/2 teaspoon baking soda


72g (2-1/2 oz) carrots, finely grated (about 2 small ones)


80g (4 tablespoons) crushed pineapple, drained and chopped fine


108g (3/4 cup) all-purpose flour

Preheat the oven to 150°C (300°F). Spray a 6-inch round cake pan at least 2 inches high with baking spray. In a medium bowl, whisk together the oil and eggs vigorously, until well-emulsified. Add the brown sugar, cinnamon, salt, baking powder, baking soda and whisk until well-combined. Scatter the carrots and pineapple over the surface and whisk until well-combined. Sift the flour over the surface (a third of the flour at a time), and gently fold in each addition of flour with a spatula. Pour the batter into the prepared pan and bake for 30-35 minutes, or until a toothpick inserted in the center comes out clean.

Cream Cheese Frosting

90g (3oz) cream cheese, at room temperature


75g (3/4 cup) confectioner's sugar


45g (3 tablespoons) butter, at room temperature

Beat together all the ingredients in a medium bowl until smooth. Pile high on top of the cake (you will have a tiny bit extra for all the sugar fiends) and smooth with a spatula.